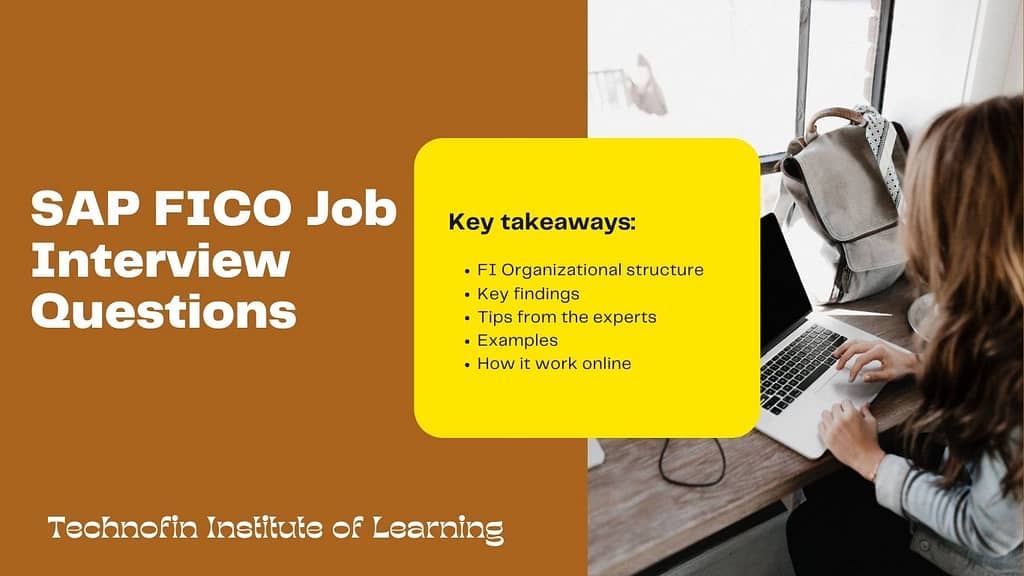 The list of SAP-FICO Job Interview Questions
SAP FICO Job Interview Questions
Here is a list of the most important questions that would probably be asked in an SAP-FICO job interview.
Tell me about FI Organizational structure?
How many Normal and Special periods will be there in fiscal year, why do you use special periods?
Where do you open and close periods?
What do you enter in Company code Global settings?
What is document type, and what does it control? Examples
What is the posting key and what does it control?
What is a chart of accounts and how many charts of accounts can be assigned to a company?
What does the definition of a chart of account contain? Can one COA be assigned to several companies?
What is an account group and what does it control?
What is a reconciliation account; can you directly enter documents in that a/c?
How do you control eld status of GL master records and from where do you control them?
What are the segments of the GL master record?
What does a Field status group assigned to a GL master record control?
What is the Country and operational chart of account? Why do you use a group chart of accounts?
What are all the segments in a Customer/Vendor master record?
What is open line item management? What do you mean by clearing open line items?
What is residual payment and part payment
What are internal and external number ranges?
How can be or in what way baseline date is important in the Automatic Payment Program run?
Please tell me the procurement cycle and how it works?
Difference between Depreciation, Accumulated Depreciation, and APC? What is APC?
What is GR/IR? What journal entries we should pass for this?
What are the accounting entries that take place in MM and SD?
Can we assign one Controlling area to two different Company Codes? (but the company codes have different fiscal years/different currencies)
While posting transactions, can we give the cost center/production order on time?
Can we run Payment Program giving ( Hdfc vendor details ) City bank in Payment run program?
What does document header control?
After entering a document can you delete the entry? Can you change the document? Which elds' can/not be changed?
What is a special GL transaction?
How do you reverse cleared documents?
What is the baseline date? Why is that used? Can this be changed?
How many statistical objects can be selected when you post an FI document?
What are the levels of controlling the layout of a Document Entry screen?
Is it a must to associate all revenue and loss accounts to a retained earning account?
What are Total Variants?
Can a customer be dunned twice within the same Dunning Interval?
Can a customer receive dunning letters from two dunning areas?
What are the criteria based on which the open items to be paid are selected?
Where are the data to calculate tax defined in SAP?
What is a tax jurisdiction code and where it is set up?
Can a financial statement structure be deleted from the system.?
Describe how cost center accounting differs from financial accounting?
Describe the possible options for a controlling area – company code relationship Put emphasis on the option you have in terms of different currencies.
Discuss the cross-company controlling?
What are the three types of currencies used in cross-company-code accounting and what conversion rates are used?
Define the types of master data that exist in cost center accounting?
Define the relationship between the chart of accounts and cost elements in cost center accounting.
What is the difference between primary and secondary cost elements?
Is it possible to plan on cost centers in more than one plan version – elaborate your answer?
Discuss how distribution for cost center allocation is used in the system.
Discuss how assessment for cost center allocation is used in the system.
Distinguish between the two cost allocation techniques: assessment and distribution.
What is the difference between direct and indirect activity allocation?
What are the two allocation categories for indirect activity allocation?
What are actual cost splitting and its purpose?
What are the two stages in which splitting actual costs based on the activity type occurs?
What are the primary functions of an order?
What is a statistical order? Why would you use one?
In what two ways can an internal order be processed?
Describe brie y the collective automatic processing of internal orders.
What is a selection variant and what is it used for within CO?
What is a list variant?
What options do you have for additional account assignments within a CO posting and when
would you get a statistical posting?
What are the different commitment types the system can record for an internal order? For
which type do you have to perform a manual reduction?
What can an order be settled to?
What is hierarchical settlement?
What is the reconciliation ledger?
What is a Reconciliation posting?
Describe how costs in Cost Center Accounting are transferred to Pro stability Analysis.
Define bank directory, house bank, bank account, bank ID, bank key, and account ID. Describe
the relationship between all of these and G/L accounts.
What are the two pieces of a document? What must all line items consist of?
What do document types control? What is their function?
What is a posting key? What does it control?
What are automatic line items? How are they configured in the system? Give some examples of automatic line items.
What are customer/vendor tolerances? Why do they exist? Give an example.
Why would a project team want to configure its own line item layout? Why would a project
team want to configure its own fast entry structure?
What is credit management? Why is it used in SAP?
What are the levels of configuring credit management for a customer?
What is dunning and why is it used?
What does the payment program do?
What are the 4 necessary inputs for running the payment program? Define each and give
examples of the data in each.
What are the 3 levels that the payment program is configured at? Give examples of the data
that is configured on each level?
Describe how SAP decides which open items must be paid by the payment program.